In general we tend to think that our life begins at our birth. Our 'birth day' is the day we celebrate each year. And yet there is a whole nine months of life before this that we have already lived that we rarely consider. Our life actually begins at conception. That is the day we really should celebrate, but usually we know little about this day. Our mother may not even know when we were conceived*.
In Identity-oriented Psychotrauma Therapy we see this time that we spend inside the body of our mother as a crucial time of identity formation, or identity destruction. This is why we call our therapy Identity-oriented Therapy. This is the time when our first, and most crucial, relationship is formed, that with our host, our mother. During this time, through pregnancy, birth and the very early post-birth period she is our world, the source of our nutrition, the home in which we grow and develop, the only home we know.
In Identity-oriented Psychotrauma Therapy we know the importance of this time of life, and how much of what happens during this time affects our ability to grow into confident, healthy adults.
---
Just recently I have understood a terrible and utterly self-denying situation that many people unconsciously carry. Firstly I will explore and explain the Trauma of Identity.
Trauma of Identity
In my experience of working with clients the trauma of identity is almost always a pre-birth trauma that occurs in the very first stages of the making of a relationship between mother and baby.
If the mother is clear in her own psyche, has predominant access to her 'healthy' psyche, i.e. has not suffered severely from trauma herself, she is able to know her unborn child as a unique individual in his own right, with his own wants and needs that are separate from hers. This is the ground for a healthy start for the child, where he can develop his own identity and autonomy without having to split his psyche.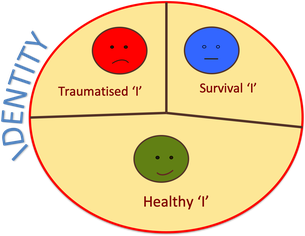 However, in my experience this is rare. More common is the situation where a mother's psyche is split due to her own early traumatisation. The result is that her perception of reality is not clear, and her reasons for having her baby are not simple. She does not see her child as a separate, unique individual with his or her own identity, but rather as an extension of herself. Her tendency is to objectify the baby, rather than see him or her as the subject of his own life, instead making him or her an object for her own gratification and uses.
Perhaps she is having a baby because it is expected that she should become a mother; perhaps the unborn child 'replaces' a prior child that miscarried.
Maybe the mother has a child to try and save her marriage; or the mother looks to her child to provide her with the loving she didn't get from her mother; or she unconsciously sees the child as a source of her fulfilment and gratification. There are many reasons why women have children, wanting the child but often for confused unconscious reasons, mainly to fulfil her own frustrated and unmet needs and desires.
If the child is not seen for him or herself, as a unique being with wants and needs that are not his mother's wants and needs, then he is forced to split his psyche, splitting off his own healthy 'wanting self'. This is the trauma of identity. The child is helplessly dependent on the mother; in the womb he is her... he cannot be separate from her; if she dies, he dies. He can do nothing for himself; his dependency is his existence. Helplessness is the primary state of traumatisation, and in the womb in the making of the relationship between child and mother, the child is helpless and entirely dependent on that relationship for his life and survival.
If his mother does not accept or respect his wants he is forced to give them up, to split off his healthy identity self, to give up on his fragile, newly developing seeds of autonomy. His only survival option is to identify with his mother's needs and wants, to align himself with her, to identify with her.
From these very early beginnings in the womb the relationship is set; the mother's self dominates; she sees her child through the veil of her survival impulses, her confused wants, and not clearly from her healthy self. There may be moments of healthy connection between mother and child, but only momentarily. Her wants and needs take priority over the child's, and the child can do nothing against this. And all this takes place before the child even begins to develop his neo-cortext part of the brain, that part that develops over the subsequent years into an ability to reason and understand. Right through pregnancy his only active brain components are the brainstem (reptilian or primitive brain), and the limbic (mammalian or emotional) non-verbal brain. This means that the child has no intellectual memory of these events, no access to the experience (although the experience is there) and it gets lost in the unconscious mind.
The child grows up fixedly identified with her mother's wants and wishes, then perhaps her father's, her teachers', her friends', her boss's and so on. In effect she becomes unconsciously very practised at 'outsourcing' her identity onto others... Even on to other groups, like her peers, pop idols, a sports team, a nation, a political party or movement.
She does not know what she really wants. Her own wants have been denied, belittled, ignored and shown to be of no importance, and she is so used to it that she never questions it. All she knows is that she should put others' wants before her own, take care of others at the expense of taking care of herself, let herself suffer while she attends to the suffering of others. To do otherwise is thought to be selfish and unworthy. To have wants of her own is shocking and a crime, or just not consciously possible. I am constantly amazed at how many people confronted with the question "what do you want" cannot reply, avoid the question, do not even hear it as a valid piece of communication.
These are the long term effects of a trauma of identity. The survival strategy of a trauma of identity is identification with the wants and needs of others, a denial of the self.
The Catch 22 Dilemma - the Unwanted, rejected child
So what happens if the child is actively unwanted and emotionally rejected by the mother? This sets up an impossible dynamic that becomes in the end an overriding threat, perhaps even to the person's very existence.
There are many reasons why a mother may not want her child:
the mother doesn't want to get pregnant and have a child
the pregnancy was a mistake
the conception was violent, or by rape
the conception was coercive, unpleasant, boring, unemotional
conception was seen as a duty
the mother hates the father
pregnancy is unpleasant and the mother is often sick
the mother is ambivalent about having a child
the mother is frightened of pregnancy and giving birth
the mother has been told many frightening things about having children
due to her own childhood trauma the mother is still psychologically a child and sees her child as a rival for satisfaction of her wants and needs
the mother sees children as a nuisance, a drain on her resources and opportunities
the mother may suffer from her own trauma from being unwanted, even hated, by her mother
she may unconsciously see her child as, finally, someone weaker than her that she can take revenge on for her own victimisation
if the mother has been abused as a child she may see her unborn child as a potential abuser
for many reasons the mother may prefer a child of the opposite gender, not wanting the child as he/she is
...
A mother may come to hate her unborn child, wish it would die or miscarry, or she may spend time considering aborting the child, even attempt an abortion. Of course if the abortion is successful that is that; but often home abortion attempts are not successful and this has massive implications for the future relationship between the mother and the child, even though the child may not have a conscious memory of the trauma. The unspoken issue sits in the space between the mother and child, along with any feelings such as guilt or resentment that the mother may have towards the child.
All of these conscious and unconscious attitudes of the mother towards her child influence the budding relationship between the mother and the child she carries in her womb. The two cannot not have a relationship, this is impossible. The child in the womb is to a great extent a physical and emotional part of the mother; the mother 'feeds' the child physically and emotionally. The child cannot reject what he is 'fed', or any part of the mother. Even should the mother emotionally reject the child, the child cannot reject the mother. His life and his existence depend on her. He needs her to survive. He also loves her, and in the face of her non-loving what then happens to his capacity for love, his understanding of love later as he grows up? 
The upshot is that the mother's not-wanting of the child, and the child's more or less conscious experience of not being wanted subtly dominate and define their relationship... for life. In other words the mother becomes a dangerous perpetrator to her child, and the child may live her life as a victim as the only kind of relating form she knows.
Perpetrator-Victim Mother-child
So mother and child develop a perpetrator-victim relationship rather than a healthy relationship, where the mother feels a victim to the unwanted child, and in her rejection and confused feelings towards her child she becomes a perpetrator to the child. The helpless child then is a real victim entirely dependent on the perpetrator mother.
A trauma of identity is inevitable, and to survive this the child splits his psyche and is forced to give up on his healthy wanting self and identify with his perpetrator mother, and her wants.
But she doesn't want the child; she wants the child not to exist. What then does the child do? The only option is the paradox of aligning with the mother's want that the child should not exist; the urge to live is cancelled out, moderated and defined by the corresponding want that the person should not live.
Self-rejection; self-perpetration
The child's identification with his or her mother's wants as a survival strategy means that she must identify with her mother's hatred and rejection of her. This sets up an impossible internal psychological dynamic of self-hatred, self-denial, and self-abuse... the child internalises the perpetrator mother and becomes a perpetrator to herself, ignoring and belittling her own wants and desires, subjugating her will to that of her internalised perpetrator mother.
At the same time the child constantly feels helpless and vulnerable, and may use this helplessness and vulnerability as a survival strategy in order to manage their life. The result is a non-life, a life of persistent undermining and failure, and all relationships are likely to repeat the perpetrator victim dynamics of childhood. The inner conflict between the aspirations of the Healthy Self, which is always potentially available after a trauma split, and the activities of the Survival Self which in this instance is the internalised perpetrator self dominate the person's life. There can be no authentic self life; there can only be an endless repetition of the early pre-birth relational dynamics.
Identification vs relationship...
Identification is the primary survival strategy of the trauma of identity. The child is forced to identify with the mother's wants and needs, and grows to adulthood only knowing himself through identification with the needs and wants of others, through the reflection of how others perceive him.
It is important to realise that this isn't relationship. Identification is entirely different from being in real relationship with another person. Identification is a form of projecting my identity into the eyes of another... making the other's perception of myself my identity. As such, real relating is impossible. Real relating can only come from a strong healthy self, and a strong healthy self is one that owns his 'wanting' self. This comes from addressing one's trauma of identity.
The Solution
There must be, and there is, a solution. It doesn't have to be this way, but the first thing on the journey to healing such a devastating internalised relationship with the self is to know it... to see it, to acknowledge it, to be able to say, yes, I am a perpetrator to myself, and my mother did not want me.
We call this the business of taking our early trauma seriously. It's an interesting idea, but of course we are already programmed to avoid such an idea. We needed our mother, and to allow ourselves to see her as a perpetrator, to know in ourselves that she did not want us, if this is the case, is painful indeed. To take on such a journey, to take the issue seriously is deeply painful, likely to stimulate feelings of guilt, disloyalty and betrayal of our mother; but of course the real betrayal was by her of us.
It takes time to translate the concept of taking our Trauma of Identity seriously to a reality of experience. It takes many steps, many 'intentions', many explorations using the Intention Method... but each step, each intention feeds the next step and the next intention. Each step slowly but surely liberates us from this ubiquitous and life-defining trauma. Each step increases our awareness of just how much we have compromised ourselves; each step strengthens our healthy self and slowly but surely allows us to confront the reality of this trauma, to find out who we really are and to find a new kind of relationship with ourselves that is honest and real, freed from the need to identify with others in order to know ourselves.
* Generally the time from conception to birth is between 255 and 275 days, so if you want to decide on a Conception Day to celebrate you can work back from your birthday to a date that seems right to you.