Trauma is a devastating experience that we cannot cope with. We are helpless, overpowered and vulnerable. We feel as if our very existence is in danger: we may not actually survive. Our psychological reaction to trauma is to split our psyche, to split off the unbearable emotional experience of terror, helplessness, annihilation, so that we can at least survive as an organism and continue our existence. We do continue to exist, but our psyche is split, and our ability to perceive clearly is compromised. (see Surviving Trauma)
The split result after traumatisation can be represented by this diagram: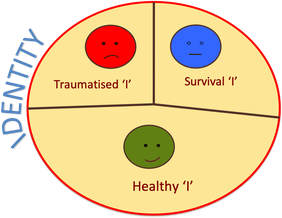 We have to give up our integrated healthy self in order to survive. This initial splitting often happens right at the beginning of our life, even perhaps when we are in our mother's womb. The trauma self holds the split off and frozen trauma experience; the healthy self is still there, but is 'managed' by our survival self.
The survival self - actually it is more accurately a trauma survival self - comes into being as a means of maintaining the split structure... ensuring that the trauma stays out of our consciousness. As we grow as a child, adolescent and young adult, the survival self develops increasingly sophisticated and efficient strategies in order to maintain the split structure, and in this way it manages our ability to maintain a healthy stance in any particular moment.
After a trauma our ability to function from our healthy self, then, is modified. We can function from our healthy self so long as we feel safe, but the moment something happens that raises the unsafety stakes, our survival self kicks in and takes over. We have no control over this... it is an unconscious and reactive process. Until we increase our awareness of our survival strategies by purposefully focusing on resolving our trauma, essentially we are not in control of ourselves; in fact we are not truly who we are, because given any kind of threat we are taken over by these basic survival instincts.
Understanding the experience of being in our healthy self will then, by contrast, highlight when we are not.
What does it mean to be functioning from my healthy self? Here are some answers, when we are functioning from our healthy self :
we usually feel good
we can breathe easily
we can perceive reality as it really is in the current situation
we feel solid, grounded and at ease
if asked a question we can think clearly and answer appropriately
we can express ourselves clearly
we can feel clear emotions that are appropriate to the situation
we can clearly describe and define what we are feeling
we can be in good contact with another person without losing ourselves
we feel in charge of ourselves
we feel autonomous
we have the ability for self-reflection and self-knowing
we have the ability to be moral and ethical in our thinking and behaviour
we are interested in truth and reality as it is, not idealising or fantasising unrealistically
our behaviour is appropriate to the situation
our desires and needs are 'healthy' and self-enhancing rather than unheathy and self-destructive
our thinking is clear and we can make good healthy decisions
we can make good relationships
we can recognise when a relationship is unhealthy or not good for us and dissolve it without shame or guilt
we are open and available for contact and connection
can remain present in intimate situations without splitting
we can feel a range of emotions that are the healthy response to current events
feelings of guilt and/or shame are healthy and relate to real current circumstances
we can retain a good memory of the past
we can stay in the present
Now this is a wonderful list of many things that many of us would like to be able to do, and cannot. At the same time many of us have in our lives glimpses of these things, moments when we can feel some of these things; these are moments when we are able to access our healthy self. For some this will be rare, and for others it is easier. Nevertheless, if you can recognise some of these, and recall moments when you experienced one or two, then you can know that it is possible to experience yourself as healthy, to exist in your healthy self, you do have a healthy self.
But if we are functioning from a split psyche this is not the whole story. Something may happen, maybe the most minor, almost unnoticeable thing... we don't see it, we don't know it happens, and yet in that moment we lose ourselves. Our access to our healthy self is gone; we are reactive, not in control, vulnerable and struggling. When this happens we lose all those good experiences; our perception of the world is distorted, unreal and threatening; our breathing even is different: it isn't so easy, we may feel breathless and panicky. Or we may find ourselves dissociating, zoning out, distracting ourselves by immersing ourselves in television, or work, or drugs, or alcohol. We may have very strong, uncontrolled and uncontrollable emotions, we may lash out verbally or physically; we may do or say things that later we regret... in short our survival self has taken the helm, and the healthy self cannot maintain itself.
This is what happens when our trauma is re-triggered... and this may happen many times a day, quite subtly. Indeed for some it may be a fairly constant experience with rare moments of the healthy self's clarity.
Trauma is about split off, frozen emotions, and the survival self's job is to maintain that split boundary. In the rough and tumble of life the healthy self is not really in charge... the survival self is. This is why for many of us when we approach working with our trauma there comes a moment when we realise we don't really know who we are... it is because our survival self's modus operandi has been with us for so long, perhaps since before we were even born, that we think that is who we are. But it isn't. The healthy self, the 'original' self, is really who we are. Of course the reality right now, as a traumatised person, is that I am all of this, the split of trauma, the survival and the healthy. This is the actuality of who I am right now... but it isn't who I can be, and it isn't the truth of me.
The work that we do with the Sentence of Intention is an exploration, an encounter with the self that helps us to learn and distinguish between the different parts of ourselves; to understand our history and the context into which we arrive, and how we were forced to give up on our healthy integrity by trauma. Through persistent exploration we start to recognise our survival strategies, thereby increasing and strengthening our healthy self, and when the healthy self and its resources are strong enough, resilient enough, bit by bit we can re-integrate our split off trauma parts.
Comments welcome, but please be patient; they will not appear immediately as they are moderated.